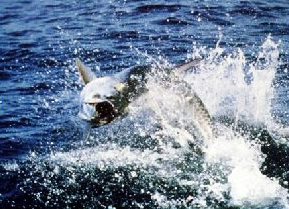 If you'd like to catch GIANT tarpon, then late summer in North Carolina is the place to be. These monsters of the water are not for the faint of heart. They peel drag like a you're hooked to Mack Truck! Often, we have to leave anchor to chase these bad boys down. When you come NC tarpon fishing, get a good night's rest and be prepared for the fight of your life. I've been a NC Tarpon Fishing Guide for years, and I'd love the chance to hook into a huge "bucket-mouth" with you.
North Carolina is an exciting and diverse tarpon fishery. These big fish migrate to our inshore sounds and estuaries every year during July, August, and September. It is truly world-class big game fishing. They leap, run, jump, and scream drag like a freight train. In many other states, tarpon can also be caught. However, in North Carolina it's RARE to catch one that is UNDER 100 pounds! That's right…we have the big boys! NC tarpon fishing is an underrated sportfishing adventure.
The typical tarpon fishing trip begins by riding the boat around and in-between known tarpon fishing grounds. Once the fish are spotted, we get ahead of the school and begin to immerse the water with baits. We have various trick of the trade that we've learned over the years including baits, chum, bait-cutting methods, bait preparation methods, and more.
Perhaps our biggest NC tarpon fishing advantage is our one-of-a-kind custom-built, Carolina sportfishing center console. She's equipped with a high tower that gives us a height advantage and allows us to see tarpon from great distances. This improves the fishing tremendously. Come see what NC tarpon is all about. You'll have a new favorite fish and a fishing memory that will last a lifetime.
If you have any questions, please feel free to contact me anytime. You can also check dates and availability online. I look forward to hooking some giant tarpon with you soon!
NC Tarpon Fishing Guide