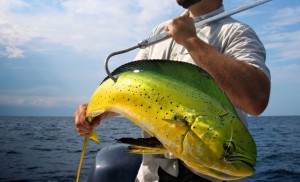 The North Carolina Outer Banks are an offshore fishing dream.  Their remarkable geography and underwater topography make them a fishing mecca and the jewel of the east coast.  Outer Banks offshore fishing is heightened by the proximity to the continental shelf.  The ledge (of the continental shelf) is only about 30 miles east of North Carolina's Oregon Inlet and Hatteras Inlet.  At the shelf, the water depth free falls from 100 fathoms (600 feet) to 1000 fathoms (6,000 feet).  This mixing of deep water with warm shallow water is a gamefish's dream.  Young, fresh baitfish move offshore and become easy meals for opportunistic gamefish!
Outer Banks offshore fishing is also improved by the warm-water Gulf Stream that flows northward from Florida.  The Gulf Stream brings warm water and nutrients to the NC OBX coast.  In opposition to the Gulf Stream, the cold-water Labrador current flow southward from Newfoundland down the east coast.  Where do the meet?  You guessed it…the NC Outer Banks!  You can imagine the rich diversity of sport fishing the Outer Banks enjoys!
But wait; there's more.  The Outer Banks is also known to mariners as the "Graveyard of the Atlantic."  Thousands of shipwrecks dot the coast providing prime fish habitat in this already nutrient (and bait) rich environment.  To say that Outer Banks offshore fishing is epic could be an understatement.  You truly can't appreciate it until you've seen it with your own two eyes.  If you'd like to experience offshore fishing on the NC OBX, please feel free to Contact Us.  You can also Check Dates and Availability.  We would love the chance to spend a day catching fish with you.  Whether you're an avid angler looking to learn some hot spots, on vacation looking to have some fun, ready to stock the freezer, or just want to learn to fish, we would love to have the chance to help you accomplish you goal.  We work hard to keep our customers happy.
We fish aboard a custom-built, Carolina fishing boat—the Fingeance.  She's a center console armed with a cobia tower and tons of state-of-the-art, fish-catching electronics.  She even has a bathroom.  This fishing machine is big, safe, and sturdy.  We are fully licensed.  Capt. Joey has years of experience fishing the water of the NC coast.  He's a student of the sport, and it's his true passion.  He will work hard to make sure you have a fun and safe time catching fish at the NC Outer Banks.
Outer Banks offshore fishing is a spectacular memory to last a lifetime.  We are very family oriented and would feel privileged to get to catch some fish with yours.  We have life jackets to fit all sizes of kids.  We take safety very seriously.  We fish with our family all the time, and we know how important safety is.  We also love to get children involved in fishing.  Teaching a kid to fish is possibly the most rewarding part of our job.  We also offer other fun vacation trips for the whole family.  We look forward to fishing with you soon.
Outer Banks Offshore Fishing