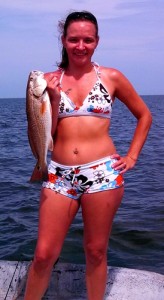 North Carolina's Outer Banks are known worldwide for the beautiful beaches that profile the coast. Though often overlooked, NC's vast interconnected network of protected inshore sounds is a remarkable fishing destination that should top every angler's bucket list. Outer Banks inshore fishing is second-to-none. North Carolina's inshore sound network offers opportunities to catch many different fish by many different techniques. From live-bait fishing to fly fishing, there's something for everyone. We often catch speckled trout, redfish, flounder, striped bass, black drum, Spanish mackerel, bluefish, giant red drum, cobia, tarpon, and more! We frequently catch 3 or more species of fish in one trip. For example, we often catch the inshore "slam: of redfish, speckled trout, flounder, and black drum. What a great day for the fishing excitement and the table! One minute we may be casting artificial lures for speckled trout. A little later, we may live bait fish for flounder. The possibilities are endless.
North Carolina's Outer Banks offer great inshore fishing for the whole family. Inshore waters are protected from ocean swells and winds. They are calmer yet just as breathtakingly beautiful. Fishing aboard our custom, Carolina-built center console makes the trip a smooth ride. We even have a bathroom for your convenience. If you're looking to take the kids fishing, Outer Banks inshore fishing is a great chance to get them on the water in a much calmer environment. Plus, we can ensure that the kids get plenty of "reel time." Click here to view our inshore fishing pricing.
Our inshore fishing techniques usually entail light tackle. These hungry fish will give you drag-screaming action that will get your heart pumping. Sometimes we use larger tackle to target giant red drum or tarpon. We use top-of-the-line gear to make certain you have the best chance possible to land that fish of a lifetime. Different fish require different fishing techniques. If you have a question about how we'll target any specific species, please feel free to Contact Us.
We love taking families fishing, and we often cater our approach to make sure that the kids get plenty of fishing action. Nothing is more rewarding than landing a child's fish and seeing their face aglow with happiness. We are a very family-oriented charter fishing operation, and we would feel privileged to have the opportunity to share a fun day with your family.
Our Outer Banks inshore fishing charters take place on Pamlico Sound, Roanoke Sound, and Albemarle Sound. We inshore fish from Hatteras Island to Swan Quarter. Let us know what species you would like to target, and we'll do our best to get the job done. We work hard to provide you with an enjoyable time on the water.
We have years and years of experience, and we would love the opportunity to catch some fish with you. If you have any questions, please feel free to Contact Us. You can also Check Dates and Availability. As always, you can call me (Joey) at 252-475-0402. We look forward to speaking and fishing with you soon.
Outer Banks Inshore Fishing