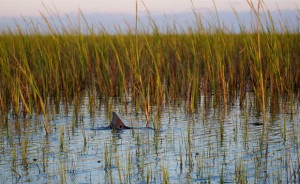 Nothing compares to saltwater fly fishing.  Presenting a fly to a fish (or better yet, a whole school of fish), enticing a bite, and angling the fish all the way to the fish box is the ultimate in fishing accomplishment.  I love carrying fly fishing charters.  North Carolina is a fly fishing paradise.  We have innumerable possibilities for the fly caster.  The Outer Banks offers opportunities to wade fish and boat fish at many different species.  We catch everything from redfish (aka puppy drum) to schooling false albacore.  Our OBX fly fishing charters are geared toward serious fisherman or beginners.  The OBX offers conditions that will challenge even the most seasoned fisherman.  Sometimes we are stalking skiddish fish on the flats where stealth is required.  Other times, we're braving 15-knot winds and 2-foot wind chops invading acre-size schools of bonita or false albacore.  For beginners, we have many easy-condition fly fishing venues for multiple species such as stripers, speckled trout, redfish, and more.
Imagine wading a tidal creek behind the Outer Banks.  A channel is being filled with aqua green water by the rising tide.  Copper schools of drum cautiously approach the freshly covered, shallow water.  As they make easy meals of now-submerged invertebrates and naïve bait fish, dotted tails lightly and silently penetrate the surface.  They immerse and quickly reappear just a few feet away.  Armed with a crab fly, you quickly maneuver your 8-weight into position.  As the rod loads, you make a quick, strong double haul.  Perfect.  The fly lands feather-soft just beyond the fish.  Two strips and a swirl breaks the still water.  Then a splash, and he hits it harder than a freight train.  As you get the fish on the reel, you raise the rod and secure a solid hookset.  Then a run…here comes the backing.  After a 10 minute battle and the fish rests safely in the net, you finally take a breath.  This is Outer Banks fly fishing.  This is what gets my blood running too.  Let me take you there.  I love it just as much as you do.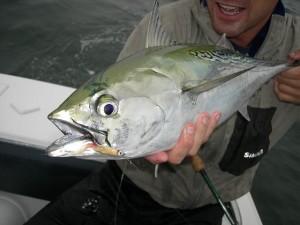 Our Outer Banks fly fishing charters are from our custom-built Carolina sportfishing boat, the Fingeance.  She boasts tons of bow space with an casting platform to give you lots of vertical height to see the fish to which you're casting.  She also has a tower with a helmstation to give us optimal in-water visibility.  It also allows us to position the boat to give you the perfect shot at the fish.  Of course, she's loaded with all the newest electronics such as fishfinder/depthfinder, GPS chartplotter, VHF radio, and more.  With tons of open deckspace, you'll have ample casting and fish-fighting room (even with 4 or more buddies aboard).
To find the best dates for your NC OBX fly fishing trip, you can check dates online.  If you have any other questions, please feel free to Contact Us anytime.  I love sharing the NC OBX's rich fly fishing with new friends.  I can't wait to hook some fish with you!
Outer Banks Fly Fishing