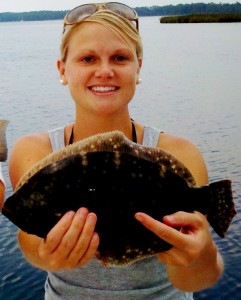 A cool morning is beginning to give way to the Sun's heat, and the thermometer is steadily climbing. A faintly cool breeze is blowing off the water that makes the temperature feel "just right." You've been on a fun bait-catching run and seen professional cast netting at its finest. Now, 5 newly-baited rigs are tumbling across the bottom waiting for the corner of a giant red drum's mouth. Out of the corner of your eye, you see a rod tip double over, straining elastically to withstand the power of the mighty fish on the other end. Your ears confirm the excitement as drag screams off a heating spool. This is Outer Banks Fishing Charters. North Carolina is your trophy red drum headquarters. Let us show you what all the hype is about.
Or picture this: Rolling ocean swells gently bounce along the horizon as a cool breeze flaps your shirttail. You're admiring the deep blue of the Atlantic and finally relaxing just a bit. All of a sudden, zzzzzzzzz!, taunt lines bring a chorus of reels to life with screaming drags. Fish on! The battle of man versus wild ensues. A fresh dinner that night proves your victory to friends and family. Nothing compares to sportfishing the NC Outer Banks. If you're looking at OBX charter boats, you've come to the right spot. We are Fingeance Sportfishing, and we are proud to be known for our world class fishing charters. North Carolina's Outer Banks are known worldwide for their outstanding fishing. The OBX is a miraculous saltwater estuary that offers endless fishing possibilities. From flounder and speckled trout to giant red drum and cobia, the OBX is a angler's paradise. There's truly something for everyone in the coastal waters of North Carolina. We fish for everything inshore and offshore. Inshore we target trout, redfish (puppy drum), black drum, flounder, bluefish, cobia, and giant Bull Red Drum. Offshore we target dolphin (mahi-mahi), wahoo, bonita, false albacore, tuna, amberjack, and more. We charter fishing trips for nearly every saltwater species native to the NC Outer Banks coastal ecosystems. We take pride in being able to target just about any species our clients may request. Our fishing charter flexibility is one of our biggest assets. Come see what all the hype is about.
From the protected and plentiful Pamlico Sound to the offshore wrecks known as the Graveyard of the Atlantic, our North Carolina fishing charters take you to the fish. Whether you're looking to stock the freezer or spend a relaxing fun day with the family, we can help you get it done. We are Fingeance Sportfishing. We are North Carolina's #1 charter boat for fishing both inshore and offshore. We know the shifting sand bars of the Diamond Shoals. We know the narrow inlets. We know the tricky, often shallow water of Pamlico Sound. And best of all, we know how to target all species of fish in all these different waterways. I'm Capt. Joey VanDyke. I've been professionally fishing the waters of the Outer Banks for years. I would love the opportunity to share my passion for fishing with you. The OBX are my home, and I love helping new friends experience their spectacular fishing. If you're looking to book a fishing charter on your Outer Banks vacation, you're at the right spot. I offer affordable fishing charters for a group of friends or the whole family. I know what a blast my family has fishing, and I know how much fun your family will have fun too. You can Check Dates and Availability to reserve your spot online. If you have any special questions or concerns, feel free to Contact Me. I look forward to fishing with you soon.
Outer Banks Fishing Charters