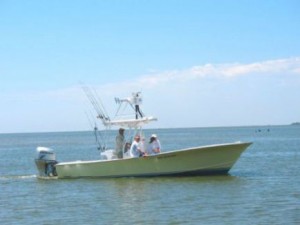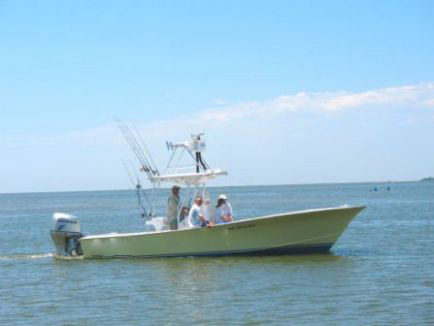 Meet the Fingeance, a custom-built, Carolina-style fishing machine.  She's a perfect mixture of form and function.  Her graceful Carolina flare slices through waves and chop like a chainsaw.  Her cobia tower provides us an unfair visual advantage.  She even has a bathroom!  The Fingeance is the perfect Outer Banks Fishing Boat.  North Carolina's Outer Banks are a myriad of different fishing opportunities.  So few boats can capitalize on them all, however, the Fingeance makes the most of almost every possible fishing opportunity.  The giant charter boats can't fish inshore.  They can't capitalize on the tremendous fishery of Pamlico Sound.  The small skiff charters can't go out the inlets into the ocean to fish offshore.  Only the Fingeance, a 27' custom-built boat can make the most of both these spectacular fisheries.  Aboard the Fingeance, you don't even need a fishing license!  She's equipped with a recreational blanket license.  Not only does she catch fish–she saves you money!
Fingeance is armed with a secret weapon.  Her tower station provides us the unusual ability to gain a new perspective of the water.  Standing far above water, Capt. Joey has a helm by which he can control the boat while seeing a birds-eye view of the fish.  Cobia fishing is substantially more productive with a little visual relief.  Sighting tarpon is made easier.  End result…more fish for you!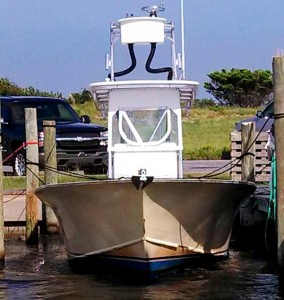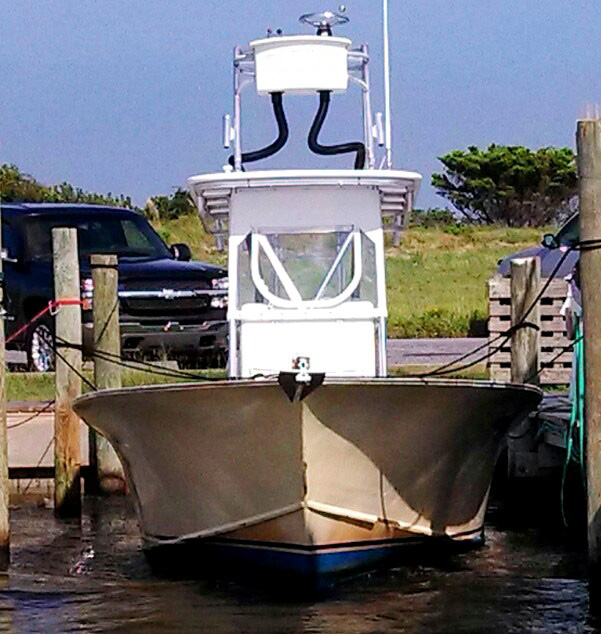 Fingeance has the traditional Carolina Flare.  Here sharp entry cuts choppy waves with ease to make the ride smooth.  Fingeance is the best all-around Outer Banks fishing boat available.  She allows more than ample room in the cockpit.  She's ready for cobia sight casting and has tons of fish-fighting space.  Aboard the Fingeance, you won't have to sit in your fishing partner's lap (unless you want to).  You'll have room to spread out, relax, and fight some big fish on our Outer Banks charter boat.
Fingeance has all the latest technological electronics aboard.  She's loaded with chartplotter (GPS), sonar (fishfinder), radar, and more.  She has everything the giant charter boats have in an affordable Outer Banks fishing trip!
Fingeance even has a bathroom!  It may not sound cool now, but when you need to go…it's a life saver!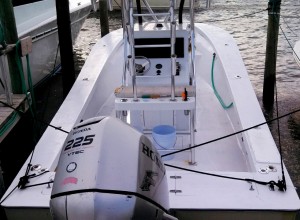 She has all required US Coast Guard safety equipment.  We take your safety VERY seriously.  We pride ourselves on having all the right equipment in case of an emergency.  Capt. Joey is a fully-licensed charter boat captain by the US Coast Guard.  He is fully up-to-date on all CPR and First Aid training.  With Capt. Joey, you're in very safe and dependable hands.  Having Capt. Joey's fish-catching experience is another reason the Fingeance stands head and shoulders above the competition.
To book your next fishing trip aboard our truly unique Outer Banks fishing boat, click here.  We love sharing the outdoors with our guests and friends.  Come see the NC OBX fishing from an all new perspective aboard the Fin-geance today.  You'll understand why she's the finest Outer Banks fishing boat when you see how she handles all the situations that you can throw her way.   If you have any questions, please feel free to Contact Us.  We look forward to fishing with you soon aboard the Fingeance.
Outer Banks Fishing Boat