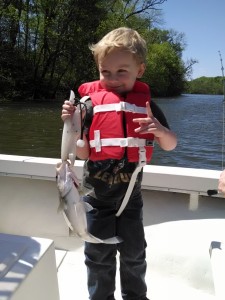 As fall's temperatures begin to drop, our fishing heats up along the inner banks of NC! The fall is a great time to target Speckled Trout, Redfish, Striped Bass, and White Perch near Swan Quarter, North Carolina. In January, we go full-swing Striper Fishing on the Lower Roanoke near Plymouth, NC. During winter, incredible numbers of stripers stage in the shallow waters of the Albemarle Sound and Lower Roanoke River. These North Carolina Striped Bass also stage in deep holes along the Lower Roanoke. This striper fishery stays strong all the way through April each year.
In April and May, we head to Weldon, NC to capitalize on the greatest Striped Bass spawning fishery on the Eastern Seaboard! The Weldon, NC area is one of the most beautiful and most natural areas in the state. This spring spawning run of Stripers is truly World Class Fishing! Many days we catch in excess of 100 fish! If you're a striper fisherman, you MUST experience this unmatched action!!
The season for keeping these fish runs from March 1st through May 1st.  After may 1st, this becomes a catch-and-release-only fishery. However, May is known for unparalleled light tackle and fly fishing opportunities. This fishery has unlimited opportunities. From live-bait fishing to fly casting streamers, these fish offer something for anglers of all skill levels.  After the epic striper run has subsided, we head back to the Outer Banks to fish the rest of spring until the late fall.
What We Provide:
All tackle, fishing equipment, and baits
We have ample cooler space with ice for your drinks and snacks.
We have separate coolers with ample space for your catch.
Fishing License:
You must purchase an INLAND FISHING LICENSE. The easiest way to purchase a license is to utilize the NC Wildlife Resources Commission's online licensing system by clicking HERE. You can also purchase the necessary license by calling 1-800-662-7137.
What You Need to Bring:
Food and Drinks for the day
Sun Protection (sunglasses, hat, sunscreen)
Appropriate Clothing (A light rain jacket is highly recommended.)
A camera to capture some great fishing pictures.
If you plan to keep your limit of NC Stripers, be sure to bring a cooler to transport your fresh catch home from the boat ramp.
We would love the opportunity to share this amazing fishery with you.  We work hard to ensure you have a safe, fun, and successful day on the water.  Click Here to check available dates and/or request more information.  You can also call us directly anytime at 252-475-0402.  We look forward to hearing from you soon.