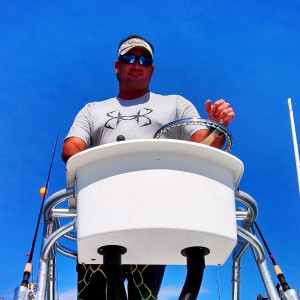 Captain Joey VanDyke has years of experience catching fish. With many years charter fishing and a 4 year college degree in Aquaculture and Ag Science, Joey is not your average captain or fisherman!
Capt. Joey VanDyke caught his first fish when he was 4 years old.  He was fishing on Claytor Lake with his Dad and Grandfather. He fished all through his childhood years catching native brook trout and rainbow trout in nearby creeks.  He also frequently fished for bass, striper, and catfish in the rivers of Southwest Virginia.
At the age of 12, Capt. Joey took his very first offshore fishing trip.  He was with his local Boy Scout troop, and they fished out of Oregon Inlet, North Carolina.  At age 15 he landed a job mating on an offshore fishing boat and spent the summer catching tuna, wahoo, dolphin, bottom fish, and many other species.  In his spare time he could be found fishing with a family friend, a surf fishing guide, learning how to catch drum and spanish mackerel in the surf of Hatteras Island.  He also frequently fished for speckled trout and flounder in the Pamlico Sound.
In 1990, when he was 18, he started mating on charter boats out of Hatteras Inlet and began his dream of offshore fishing for a living.  Capt. Joey decided to move to Hatteras Island.  In 2000, he began mating out of Oregon Inlet.  You can say he's been hooked on fishing all his life!
Captain Joey prides himself in knowing and learning all he can about fish.  He studies their habitats, feeding habits, growth cycles, and life cycles.
He's always seeking new ideas and techniques to catch fish and has always been eager to learn from those who are willing to share their knowledge. It turns out that you can teach an old dog new tricks!  With Joey's vast knowledge of the history of fishing coupled with his in-depth understanding of new fishing techniques, you are sure to have one of the most exciting, entertaining, and educational fishing trips of your life!  Capt. Joey is eager to share his knowledge and fishing experiences with all his customers.  He loves helping others become better anglers.  If you're looking to learn about fishing or to fill your freezer (or both), Capt. Joey VanDyke will work hard to ensure your trip is successful. If you have any questions, please feel free to ask away.  You can Contact Us by clicking here.  He'll respond at his first opportunity.  We look forward to fishing with you soon!
Capt. Joey VanDyke