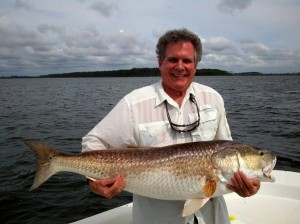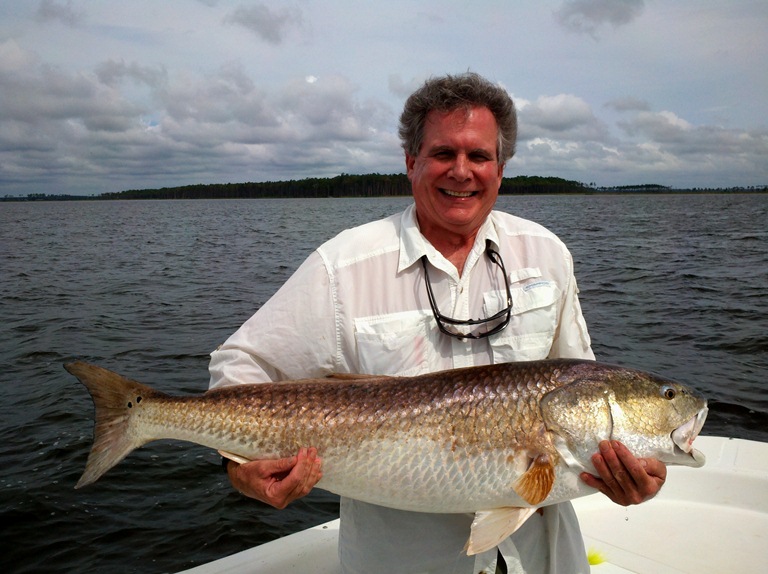 Where shifting sandy shoals meander through saltwater inlets, North Carolina's sport fishing paradise takes center stage.  Gamefish abound in this bait-rich environment.  Here is where the angler meets his or her quarry.  North Carolina's Outer Banks are truly a sport fishing paradise.  No other location on the planet offers such a plentiful maze of baitfish habitat.  Game fish of many, many species take full advantage of the marine all-you-can-eat buffet.  If you're looking for spectacular Outer Banks fishing, you're at the right spot.  We offer affordable charters that will make your NC Outer Banks visit or vacation a memory of a lifetime.  Our Fishing Charters will take you to the fish.  Ride aboard the safe, fast, and comfortable Fin-geance, a custom-built, true Carolina sportfishing boat.  She's loaded down with fish-catching electronics and equipped with a cobia tower to give her an unmatched visual and technological advantage.  The right boat makes the trip more comfortable and more productive.  Even better is the versatility offered by the Fin-geance.  She allows us to target species in Pamlico Sound, Albemarle Sound, and the Atlantic Ocean.  No matter what style of fishing you prefer, we can put you on the fish.  In fact, the Fin-geance even has a bathroom!  That's a big plus for the whole family.
We offer lots of great North Carolina Outer Banks charter fishing adventures.  We also offer tons of fun activities to make the most of your NC vacation.  We offer family trips for clamming, crabbing, sightseeing, sand dollar hunting, and sundown tours.  Our safe, spacious, comfortable boat is the perfect place to spend quality time with your family and loved ones.  We truly love to showcase the natural beauty of the land we are privileged to call home.  We would love the opportunity to teach them about the marvelous ecosystem that comprises NC's Outer Banks.
To learn more about our fully-licensed captain, click on the About Capt. Joey page.  Capt. Joey is a seasoned veteran.  He's also a highly professional boat captain and guide.  He is fully up-to-date on all certifications and safety training.  Safety is his first and foremost concern.  He has years of NC Outer Banks charter fishing experience!  Capt. Joey loves to share his extensive experience with anglers of all skills and experience levels.  He loves both fishing and the Outer Banks–and it shows!
To get the most out of you Outer Banks trip, give us a call today.  You can also Contact Us via our website.  Click here to check dates and availability.  We will be sure to get back with you at our very first opportunity.  We love nothing more than showcasing the NC Outer Banks' unparalleled beauty and productive fishing with new friends.  The Outer Banks are a place that people may leave but they never forget.  If you have any special concerns, questions, or instructions, please let us know.  We pride ourselves on going the extra mile to ensure our happy customers have the most memorable fishing charter possible.  Thanks for visiting our website.  We look forward to catching some fish with you soon.
-Capt. Joey VanDyke
Outer Banks Fishing
East Carolina Adaptive Marketing
222 Stewart Parkway, Ste 206
Washington, NC 27889